Although it seems that watermelon is only water and sugar, it has many nutritional benefits. It is a sweet and refreshing fruit that is why it is attractive for summer. There are different kinds of watermelon, or pin as this fruit is also known. It comes from a large family with more than 200 species. Its soft and sweet texture is ideal for the whole family.
They are from the family of cucubitaceas, in other words, vine plants.
Some claim that watermelon exists since the times of the ancient Egyptians, and has been preserved to this day. In the Mediterranean area, they bloom between June and July.
The fruits are given up to 40 days after flowering. Its beautiful organic pigment makes it attractive to the eye. It is usually used for a variety of desserts, juices, salads and even to decorate dishes.
The nutrients that you find in the watermelon
Potassium
Magnesium
Carbohydrates
Fiber
Folic acid
Vitamins A and C
Antioxidant
Benefits when consuming watermelon:
Hydration, since it has almost 90% water.
Prevents asthma, since it contains high level of vitamin C.
It helps improve blood circulation.
By containing vitamin A, it helps skin care.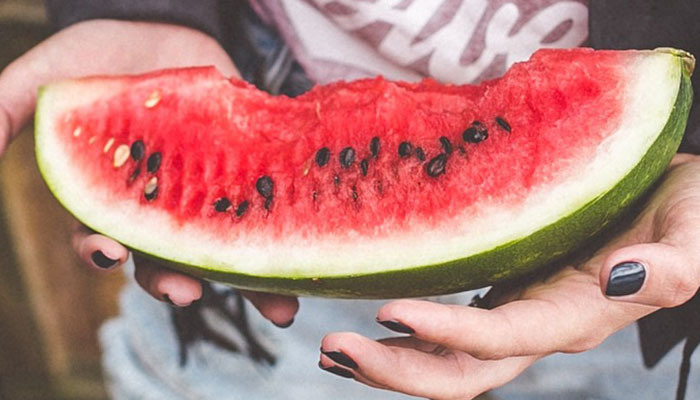 Do you want to get the most out of summer watermelons?
I share a couple of recipes that are super easy to make and I know you will love them.
A refreshing watermelon juice
Half watermelon
Diced Ice cubes
Lemon
Cut the watermelon into squares, and remove the seeds if you have. Put the watermelon in the blender, with cubes of ice and lemon to taste. Put the blender in medium power. Make sure that the ice is well liquefied and that the texture is more frappé than liquid. You can decorate with some sprigs of mint and pieces that watermelon.
Arugula and watermelon salad
200gm of arugula
1 slice of watermelon
1 tablespoon of olive oil
175 gms of goat cheese
salt and pepper to taste
In a bowl put the previously washed rucula leaves. Cut the watermelon into squares and remove the seeds if you have. Split the cheese with your hands about the same size as the squares of watermelon. Put the oil, salt and pepper. I love this salad, the little pieces of watermelon give it the crunchy touch.
Fruit pizza
1 Slice of watermelon
1.5cm approx.
½ apple
1 kiwi
½ banana
Raspberries
Blueberries
First, put the watermelon as the base of the pizza. Cut the apple and kiwi into thin slices. Like the banana. Decorate with raspberries and blueberries. It is ideal for a refreshing dessert or a snack.
If you need help to cut the watermelon this video will teach you the easiest and fastest way to do it.
Do you know any other recipe with watermelon?
I will love to know them! Leave them in a comment.