For me the smoothie bowls are the perfect solution for every morning. And more if they are full of the magic of superfoods. Starting because they are super easy and quick to make. You can make combinations of fruits with other ingredients that provide you with vitamins and nutrients. As a time, it is a very nutritious option that brings several advantages, such as recovering the body after a morning of exercise among others. 
The smoothie bowls have the flavor and texture of a normal smoothie but with toppings that makes them even richer and more nutritious. Unlike a smoothie that you can take in a couple of seconds, the bowl is spoonable.
Superfoods
They are 100% natural foods, which in small amounts can give powerful nutrients, antioxidants and vitamins. They are fruits, algae, seeds, roots or herbs. It is recommended that they be consumed in the morning during breakfast or as a snack.
Nourish the body

They help detoxify

They provide energy

Improve immunity

Detoxify

Health in general
The smoothie bowls filled with the magic of superfoods: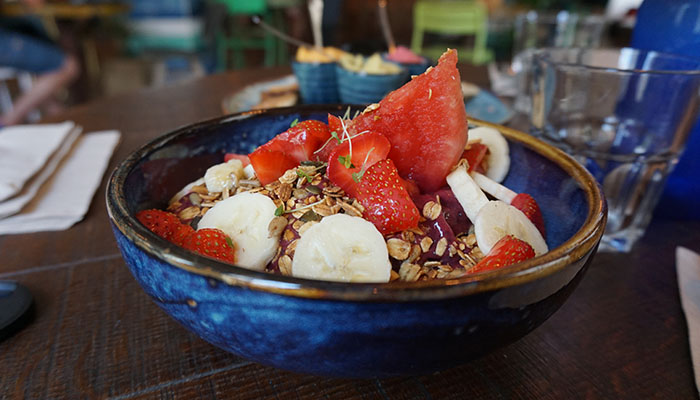 Açai
Red fruits that come from South America. They are a great source of antioxidants and fiber. Açai helps keep skin young and regulates cholesterol.  Also contains vitamins C, A, B1, B2, B3 and E. It is a great energy enhancer. It is used as a base for smoothies or smoothies.
Chia Seeds
They are edible seeds that provide energy. Chia means energy in the Aztec culture. It is easy to mix them with juices, smoothies, salads and more. It contains Omega3, antioxidants, fiber, iron and calcium.
Spirulina and Chlorella
They are marine algae, sources of proteins, amino acids, calcium and iron. They help a quick recovery. Ideal to detoxify the body. Some doctors say it helps prevent and fight cancer. It is even recommended to reduce cholesterol. It comes in a powder form and is usually mixed in juices giving a striking green color.
Maca
It helps to increase the energy level and accelerates the metabolism. rise the levels of energy. It is a natural antidepressant. They say it also helps improve fertility. It is a root made in powder that tastes sweet. It is used in smoothies, smoothies and oats.
Watch this video to get inspire
Although all these products are 100% natural, I recommend that you consult a specialist to learn which one is right for you.
Do you have a favorite superfood? Have you tried any of these?